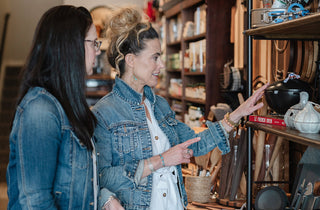 Be a VIP
Unlimited savings when you take advantage of all the benefits
VIP Membership
La Cuisine cooking classes are one-of-a kind in Bozeman. We believe we have an opportunity to help grow a stronger community when we partner with local chefs, caterers and restaurants. Our customers gain professional skills and the chefs have a platform to demonstrate their life passions in ways day to day operations don't allow.
However, the classes have been so popular, they sell out very quickly. We know that can be frustrating when you want to be a part of something very special.
We have heard your pleas for a program designed to alleviate some of these challenges and further reward your loyalty. And that is why, for only $39 per month, a VIP member* will receive...
Early access to classes; 2 seats per member, up to 48 hours before non-members
Minimum 5% store discount every day, including classes (excluding gift cards) 
Exclusive access to invitation only VIP shopping and class events. The first event is scheduled for September 20. Mark your calendar!
We have even included some BONUS rewards...
Members will receive a FREE gift after purchasing 5 distinct classes ($20 value)
Members will receive a FREE gift after purchasing 10 distinct classes  ($45 value)
Customer loyalty matters and this is your chance to be rewarded for all you do to support La Cuisine.
Become a La Cuisine VIP Member today and choose the plan that works best for you!